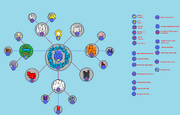 Description.
Poseidon Ward: Not currently attached to OLYMPUS, but still considered an Area.
Hermes Lines: The blue and red bridges that are suspended between all the "cores" that float up in the air. They allow the passage from one "core" to another.
Ad blocker interference detected!
Wikia is a free-to-use site that makes money from advertising. We have a modified experience for viewers using ad blockers

Wikia is not accessible if you've made further modifications. Remove the custom ad blocker rule(s) and the page will load as expected.