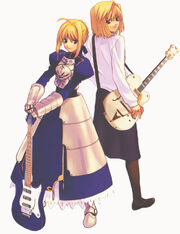 This is the current compilation of tracks that acts as the soundtrack of Fate/Regalia. It will also be filled with new songs and download links as new areas, people and other stuff are found that require their own music.
Opening Songs
Edit
Phase Songs
Edit
1. Bright Sky, Cerulean Sea (Morning, Sun)
2. Academy above clouds (School)
3. To the Beat of the City (Afternoon, Sun)
4. Friends, dorm and descending sun (Evening, Sun)
5. Starlit Battleground (Night, Clear)
6. Stain Sword in Blood (Impulse Battle)
7. Broken Promise of Victory (Defeat)
8. Gentle Raindrops (Morning, Clouds)
9. Lunch & Chatter (School, Break)
10. Until it Rains (Afternoon, Clouds)
11. Friends, city and evening rain (Evening, Clouds)
12. Neon-lit Battleground (Night, Clouds)
13. Raise thy Sword for thy Honor (Duel-Battle)
14. Shining, once again (Victory)
Emotion Songs
Edit
15. Hostility and Anger
16. Eternal, Bitter Rivalry (Butterflies Extend)
17. Tonight, it all ends
18. There Shall Be No Other Way
19. Namida
20. Having a good time
21. Could this be more than Friendship?
22. My Truth
23. If There Was Any Other Way
24. Ever After
Special Songs
Edit
25. Atlasia and her Burden
26. The Great Hunter of Jurakudai Villa
27. Welcome to the Duel-Chart
28. Things that cannot be Changed
29. Unsolved, hidden in the sky
30. Mystery, Lost in Time
31. Club time! (Sports club ver.)
32. Club time! (Cultural club ver.)
Ad blocker interference detected!
Wikia is a free-to-use site that makes money from advertising. We have a modified experience for viewers using ad blockers

Wikia is not accessible if you've made further modifications. Remove the custom ad blocker rule(s) and the page will load as expected.